Security Orchestration, Automation and Response (SOAR) platforms are gaining popularity with cybersecurity teams. However, the availability of talent with security DevOps experience seems to be one of the biggest challenge to fully utilizing the technology. Building automated workflows and integrations for a variety of security tools—following industry best practices—requires a skill set that can be hard to find. Phoenix offers a variety of expert services for organizations investing in SOAR platforms, like Swimlane.
Automating Security Operations
Depending on your preferred industry analyst, automating your security operations may fall under one of many names with similar acronyms. Gartner uses Security Orchestration, Automation and Response (SOAR); ESG calls it Security Operations and Analytics Platform Architecture (SOAPA); and Forrester classifies it as Security Automation and Orchestration (SAO). Regardless of the name, the basic premise is the same—identify, centralize, triage, research and remediate cybersecurity incidents at machine speeds using automated workflows and a collection of integrated and orchestrated security tools.
The benefits of automation include the ability to:
Centralize, enrich, contextualize, and correlate security data
Accelerate incident detection, triage and response
Automate time-consuming, manual security operations workflows
Improve security operations efficiency, efficacy, consistency and reporting
SOC Automation: Real World ROI
Calculating Return on Investment
See how a client reduced their SOC Tier-1 workload by 75% with Security Orchestration, Automation and Response (SOAR). Our own cybersecurity experts Matt Rodriguez and Tom Goetz walk you through a quick use case to demonstrate the role automation plays and the client's ultimate Return on Investment.
SOAR Services
The services we offer to Security Orchestration, Automation and Response (SOAR) customers are designed to complement your existing team. Just let us know where you need help and we will customize our Engineering, Operations, and Sustainment services, accordingly. If you are looking for a new SOAR solution, we can help you procure, configure and implement a platform appropriate for your environment and budget.
SOAR Engineering
A Security Orchestration, Automation and Response (SOAR) platform benefits greatly from Phoenix's "eye towards operations" approach. Our experts simultaneously engineer your technical and operational architecture, so that your security operations processes are part of the original design. This unique approach ensures that your SOAR platform goes into production faster and immediately starts delivering value by automating your most time-consuming workflows. Our engineering services mirror the familiar steps of the software development life cycle methodology including: planning, analysis, design, building, testing, deployment and maintenance. This methodology guides the entire project including the design and integration of the security tools in your automated workflows. Due to the complexity of an SOAR implementation, our focus on thoroughly documenting your design, procedures and "as-built" configuration parameters will prove to be indispensable.
SOAR Operations
With thousands of alerts to triage, research and respond to everyday security teams can be overwhelmed quickly. Automation is a great way to get a handle the volume of alerts, but to implement automated workflows requires knowledgeable resources with a complete understanding of your current processes and procedures. Most teams don't have these resources readily available. Our SOAR Operations services team is comprised of developers and subject matter experts familiar with the technical and business aspects of world-class operations centers. So, whether we are automating your current playbooks or building processes for new security tools, your workflows will be designed and optimized using proven best practices. Our engineers will also automate your reporting and dashboards, so that metrics that are important to your management team are quickly and accurately calculated.
SOAR Sustainment
For our professional services clients, we offer Sustainment Services to keep your SOAR platform and associated security tools up-to-date and running great. These administration services keep your analysts focused on using the tools, while we focus on managing the tools. Our Sustainment Services include the installation of patches and software updates (requires a valid software subscription or maintenance agreement); capacity planning and availability services; tool optimizations, health checks, back-ups, cloud migrations and operational improvements; and user administration and help desk telephone support. If you prefer to administer your own tools, but need help understanding the required management tasks, we are happy to design a comprehensive sustainment schedule that you can use to self-maintain your SOAR environment.
What is Swimlane?
Swimlane is the leader in low-code security automation. The Swimlane Turbine platform unifies security operations in-and-beyond the SOC into a single system of record that helps reduce process and data fatigue, while helping security leaders overcome chronic staffing shortages and more easily quantify business value and the efficacy of security operations.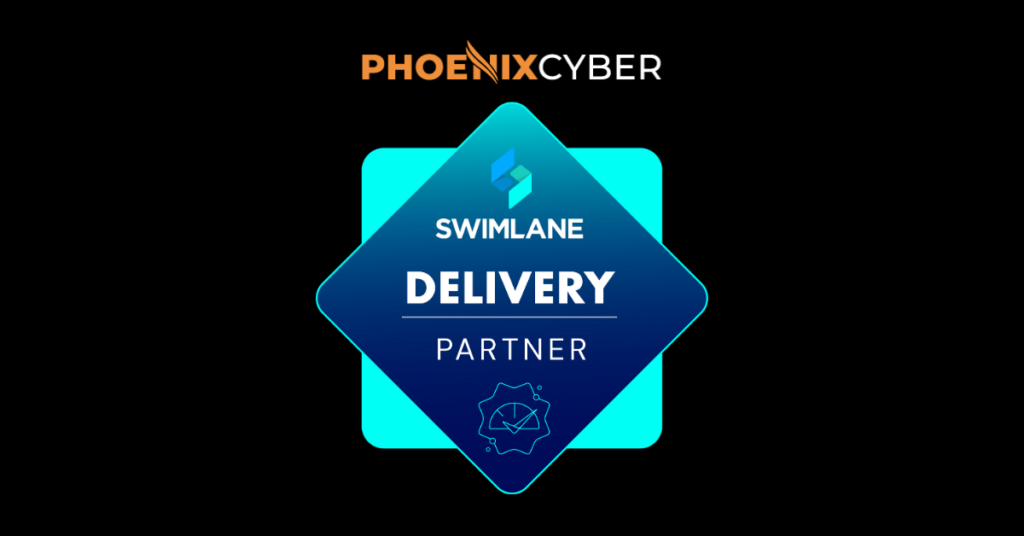 Integrate Existing Cybersecurity Tools
Centralize Security Operations Activities
Capture, Standardize and Scale Security Processes
Automatically Enrich Cases (i.e. Threat Intelligence, etc.)
Resolve Incidents at Machine Speeds
Automate Defense with Security Orchestration
Deliver Metrics for Oversight and Insight
Do you need help automating your workflows?
Benefits of Phoenix Cyber Services